The Old Retail Playbook Is Dead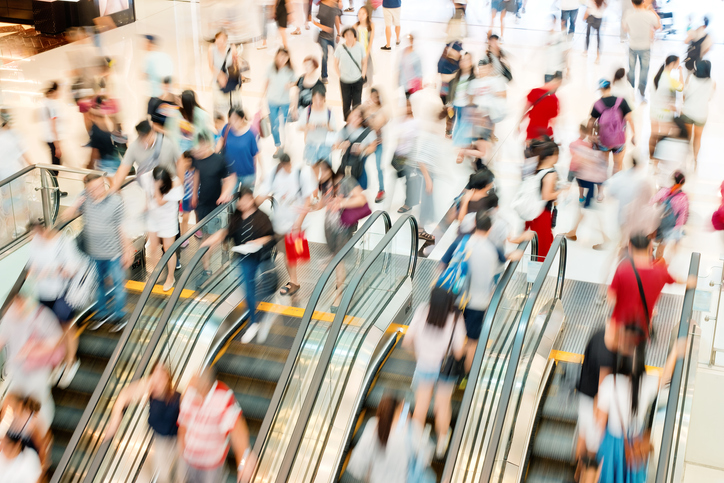 Don't blink or you may miss another retailer shutting its doors. Now you can debate all you want as to the demise of some of these iconic retail brands — and I have my own thoughts on this which I'll share in an upcoming piece, but for the record retail is far from dead, the rules have changed or as Bruce Hershey, VP of Retail Brand Marketing for Men's Wearhouse put it "the old retail playbook is dead."
I spoke with Hershey about a variety of topics including how much has changed in the marketing space just the short time he's been with the brand, how the brand continues to thrive in the face of the supposed "retail apocalypse" and more.
Steve Olenski: You've been with Men's Wearhouse since the middle of 2015, which is a mere 2.5 years ago yet in the marketing world today is akin to 1000 years in terms of how fast things change re: technology, the way people shop and engage with a brand and so on. What stands out to you as being among the most significant changes you've experienced since you started 'til now as it relates to marketing, data, mobile, customer experience (both online and in store), etc?
Bruce Hershey: The standard answers to this question go along the lines of "consumers are getting smarter," "the marketing landscape is getting more and more cluttered," "mass casualization is effecting apparel purchase patterns," and "digital is transforming the path to purchase, with increasing significance in the apparel category." And yes, all of these answers are relevant and we do track and assess their impact on our business on a daily basis. However, what really stands out to me the most is the ever-growing lack of merchandizing, media and messaging differentiation in the retail category.
When you look at major department stores in the U.S., there is an incredible amount of merchandising overlap – and the advertising in that space is reflective of this lack of originality. If I can't tell the difference between my competitive set's ad campaigns, then I am certain the consumers we're targeting can't tell them apart either. So, to answer your question, the every-growing parity paradigm is what stands out to me as the most note-worthy change over the last few years.
Olenski: Speaking of in store, how has the brand managed to defy the odds, if you will, and maintain a strong, thriving retail presence?
Hershey: We know that three of our biggest assets are our customers, our expert wardrobe consultants and the large footprint of our stores across the country, which is why we are focused on investing in new experiences around our custom offerings and world-class customer service. Make no mistake about it, digital plays a very important role in the customer journey as he starts to discover, but ultimately he wants to come in-store to try on the tailored clothing to ensure he not only gets the perfect fit but also gets help identifying the right style for the occasions he is shopping for.
In order to provide confidence, it takes a very personalized connection with each and every one of our customers, one that can only be had inside of our stores.
Olenski: The brand launched a new campaign in August 2017. What was the rationale behind it? What was the goal? What channels did you utilize in promoting it?
Hershey: The Men's Wearhouse brand is an American institution; we've been around for 45 years, and one out of every five suits sold in the U.S. come from Men's Wearhouse. However, prior to the launch of our 2017 campaign, we didn't clearly express relevant reasons for our customers to believe in our brand. We also confirmed through qualitative and quantitative consumer research that 99.5% of our messaging was focused on activities that men out there spend 0.5% of their time doing.
Simply put, we just weren't connecting with our consumers effectively. So we saw it as an opportunity to take a new data-focused approach and centered our communication platform on the consumers themselves. The goal of the refreshed campaign is to join and eventually lead the conversation about what it means to be a modern man, what that entails, how it feels, etc. We want to show our consumers we really understand who they are, what they need, and how our "style solutions" fit into their lives.
We operate as more than just a menswear retailer by offering men solutions that help them to navigate modern manhood with confidence. This is our North Star that guides all initiatives and communication across the business, and does so in an integrated and coherent manner. Beyond broadcast, we've added in new media like social, digital video, OTT, activations, and partnerships to really shake up the old school perceptions that our brand has built over time.
Olenski: Taking a more holistic view, where do you think brands — regardless of industry, go wrong when it comes to marketing/advertising?
Hershey: Too many brands play by the same set of rules. So many organizations talk about being data-driven, but in reality, they never actually leverage data to make important strategic decisions about the brand and connecting with the customer. As a result, they all end up looking, sounding, acting and feeling the same: undifferentiated, safe, and irrelevant to the consumers they are trying to connect with. I always say to my team 'fail fast, learn from it, and move forward constantly.'
Olenski: Should marketers and advertisers have a fear, real or perceived, of consumers rebelling en masse; telling us that enough is enough when it comes to being presented with too many marketing/advertising messages? Are ad-blockers a real threat?
Hershey: The old retail playbook is dead. Marketers that are stuck in the dark ages of deal-stacking and traditional retail tactics should be terrified. For Men's Wearhouse, we see the consumer-driven disruption as a major opportunity to create and constantly refine marketing strategies based on real consumer feedback and data. Our transformation journey to-date and the growth we've been experiencing has been impressive. Wait 'til you see what's next at Men's Wearhouse. Trust me, you're going to like the way we look in summer, fall, and winter 2019.
This article originally appeared on Forbes.