In The 'Salt Mines' With Denise Lauer, CMO Of Morton Salt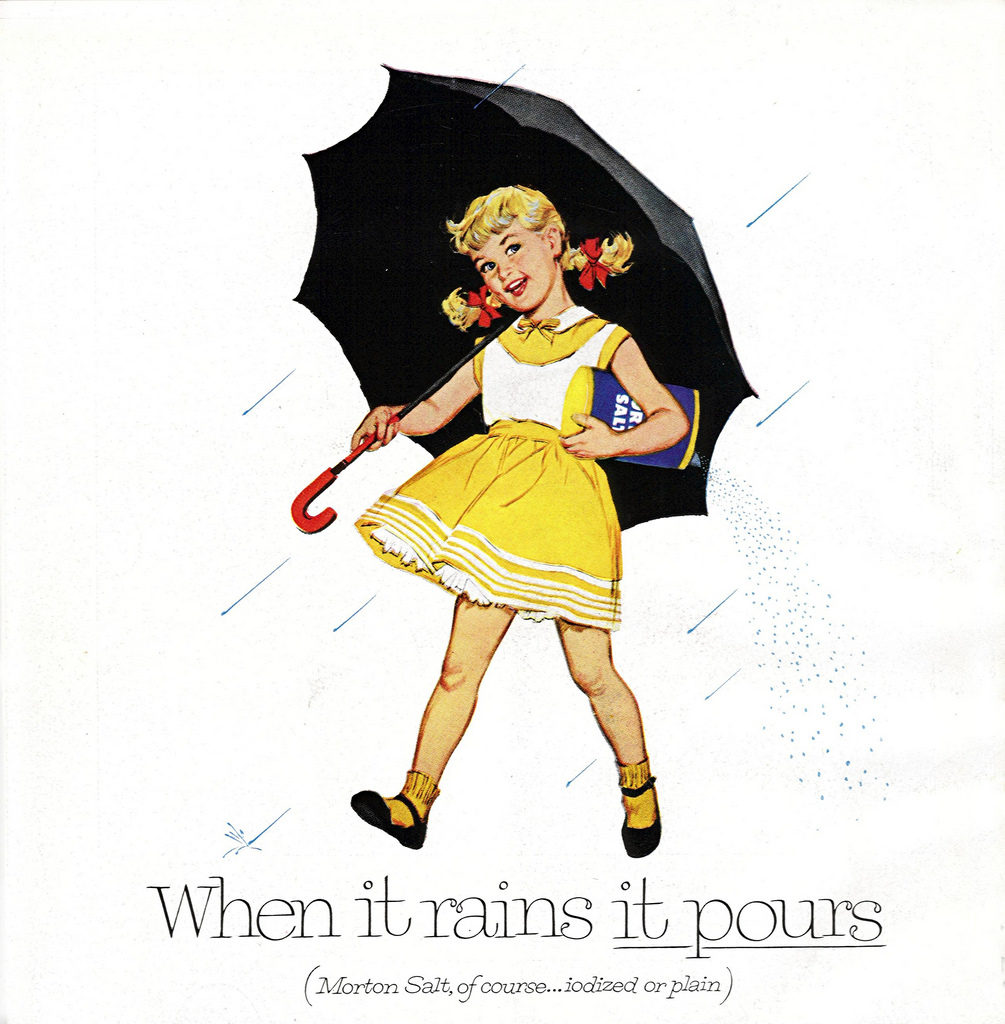 Morton Salt has been going strong with a history that spans over 170 years. Throughout the years, the brand has recognized the need to balance traditional values that have made it a household name with the need to evolve how it markets and engages with its audience and customer base. Denise Lauer, CMO of Morton Salt, shared her insights related to multiple areas of marketing.
Changing Roles
Recently, Lauer went from senior director of communications and corporate brand strategy to CMO. Morton Salt managed to garner all their success without the role of CMO, which was only established about a year ago. However, despite no company playbook for the role, Lauer finds the transition natural. "For the past few years, I had been leading Morton's Masterbrand efforts. This included the launch of our Walk Her Walk platform. At Morton, I also had a number of opportunities to build strategies, campaigns, offices, and departments from the ground up. In fact, I joined the company in mid-2011 to establish a Communications function. Clearly, it has been quite a journey."
Although she finds it comfortable, the CMO role comes with a huge responsibility. As part of this position, Lauer is charged with maintaining brand equity.
As CMO, I'm responsible for shaping Morton's brand vision, image, and reputation in the marketplace and workplace. Also, I'm charged with ensuring that we thoughtfully evolve one of America's most trusted and beloved brands for the future. It's an incredible privilege – and a great responsibility – to take an iconic brand and reimagine it for the future."
Lauer has taken a pragmatic approach to evolve the brand based on data and insights. She added, "Of course, instincts play an important role as well. Ultimately, the most important measure is authenticity. We must modernize Morton while staying true to the brand. It's a delicate balance.
"We've already made great progress by reigniting the brand through more meaningful and culturally relevant marketing efforts. But, we're just getting started."
The "Walk Her Walk" Campaign
In November 2016, Morton launched the "Walk Her Walk" campaign. Although everyone knew Morton equals salt, the brand needed to establish what else Morton equals. And, that was to provide greater purpose and ambition for the brand.
The campaign was inspired by the Morton Salt Girl, known for spreading goodness wherever she goes. "Given the strong emotional connection consumers have with the Morton Salt Girl," noted Lauer, "we saw an opportunity tap into this brand love and activate it as a force for good. Walk Her Walk is a call to action to step up and make a positive impact in the world."
To execute on this idea, the Morton marketing team created an integrated marketing campaign. At the center of the campaign was a music video ("The One Moment") created in collaboration with rock band OK Go. The campaign also featured interactive out-of-home advertising in key markets and a Snapchat lens that allowed consumers to channel their inner Morton Salt Girl. Then, there were partnerships with inspiring influencers who were tackling critical topics in the world today like nutrition, education, and the global water crisis.
Additionally, the campaign had a dedicated website and original content on Morton-owned digital and social channels. Finally, there were native advertising and sponsored content on digital and social platforms, paid search, and traditional public relations tactics.
Incredible Campaign Results
The campaign results far exceeded expectations. There were more than one billion media impressions as well as over 50 million music video views across Facebook, YouTube, and other platforms. Then, Morton received 6 Cannes Lions, including two gold, one silver, and three bronze awards in 2017. Finally, it was considered one of  Adweek's 10 Best Ads of the Year for 2016.
Besides the key performance indicators and accolades, Lauer believes the campaigns learnings were just as important. "One of the biggest learnings from the campaign is that consumers are open to engaging with the brand in new and different ways. Who would have ever expected Morton to do a music video? We are harnessing the momentum from the Walk Her Walk launch to activate the natural affinity for our brand. New channels, partnerships, and digital and physical experiences are connecting consumers to our brand in unexpected ways."
Taking a Stand
Right now, the Walk Her Walk platform includes an action campaign targeting food waste. The company realizes it can leverage its strong brand equity to take a stand. Therefore, it's using the campaign to address the growing amount of food wasted in the U.S. Morton's launched the Erase Food Waste campaign last December to help consumers make the most of their meals. It made sense to tackle the issue of food waste given the critical role salt plays in preserving food.
Specifically, Morton plans on providing educational tools and solutions. The intent is to drive behavioral change. Lauer stated, "We're doing so through thought-provoking content, recipes, and tips. Also, the brand is partnering with chefs, influencers, customers, communities, and non-profits. Most recently, we created a series of posters by turning real food waste into paper, ink, and a font to bring the food waste story to life in an unforgettable way."
The Impact of Culture on the Morton Brand
More than ever, 'culture' is mentioned when it comes to its impact on the organization and brand. In the case of Morton, Lauer noted that culture plays a huge role in shaping the brand now and in the future. "From the evolution of the Morton Salt Girl (now in her seventh edition) to the expansion of our product portfolio, we're always looking at cultural trends to help inspire brand campaigns, product innovation, and the way we work.
"In terms of product innovation, most consumers know Morton best for the iconic round blue canister of table salt. However, the brand knew they had to move beyond this kitchen staple. Now, they offer a full line of culinary salts, including sea salt, Kosher salt, and seasoned salts. Lauer explained, "The rise of cooking shows and the foodie culture have played a role in our portfolio growth. Also, we have a robust B2B segment with numerous products designed for business and industry. These products include water softener salt, pool salt, and de-icing salt."
Then, there is the workplace environment. In December 2016, Morton Salt headquarters moved to a new development along the Chicago River as part of its strategy to create a more modern and innovative workplace culture. "Our new headquarters space features a light, bright open concept with no offices – not even for our CEO. By tearing down the physical walls between us, we've been able to foster a more collaborative company culture that is nimble, creative, and entrepreneurial. You could say that we're acting more like a start-up than one of America's oldest companies. For us to truly modernize our brand, we have to live the change inside and out."
Brand Engagement Strategies
Morton is now a direct-to-consumer brand. However, it is not in the traditional sense. The brand just launched an online store for consumers who are passionate about the Morton brand. At MortonSaltStore.com, consumers can buy branded gear, including apparel, drinkware, décor and, of course, umbrellas.
"For years, consumers have brought our brand to life in so many different ways – from artwork to costumes and even tattoos," stated Lauer. "In addition, we often receive consumer requests for t-shirts, hats, and other items featuring our brand. This fandom inspired us to develop fun and fashionable merchandise that serves as a natural extension of our brand. We're just getting started with our first capsule collection. However, the team is already exploring exciting new collaborations with designers and brand licensing partners."
Seasoning the Brand with Technology
Morton is already seasoning its branding efforts with technology like artificial intelligence. "We have two Alexa skills designed to help the home cook salt like a pro. Based on our data and insights, we knew we had an opportunity to educate consumers on the best ways to infuse different types of salt into dishes for every occasion. For example, we learned that interest in brining turkey was higher than ever, so we launched our first Alexa skill last Thanksgiving to 'talk turkey 'with consumers. Morton Brine Time is our 21st-century solution for consumers looking to serve up juicy, flavorful turkey and master the holiday's centerpiece dish. Since then, we've updated it  to offer everyday tips, tricks, and recipes for brining a variety of dishes – from poultry and pork to shrimp and vegetables."
This summer, Morton launched another Amazon skill to help consumers up their salt game in the kitchen. The "Morton Salting Sous Chef" skill offers a range of advice – from brining to marinating to baking.  The skill covers more than 4,000 food items, including vegetables, mains, side dishes, and desserts.
The skill also gives away some sweet salting secrets and hacks, such as how to perk up coffee with a pinch of salt or how to clean a cast iron skillet with kosher salt.  For each Alexa skill, Morton partnered with Celebrity Chef Richard Blais to offer unique recipes and culinary experiences. The free skills are available on Amazon Echo and also to all Amazon Prime Users via the Amazon App.
Final Thoughts
Morton Salt is a brand that knows what marketing and branding tactics are the most effective and in what measure. They've created the right flavor for 170 years across changing generations, preferences, trends, and technology. Staying true to their brand attributes and audience, Morton has also evolved their brand to remain relevant for today's consumers.
This article originally appeared on Forbes.