A Brand, A Burger and Bullying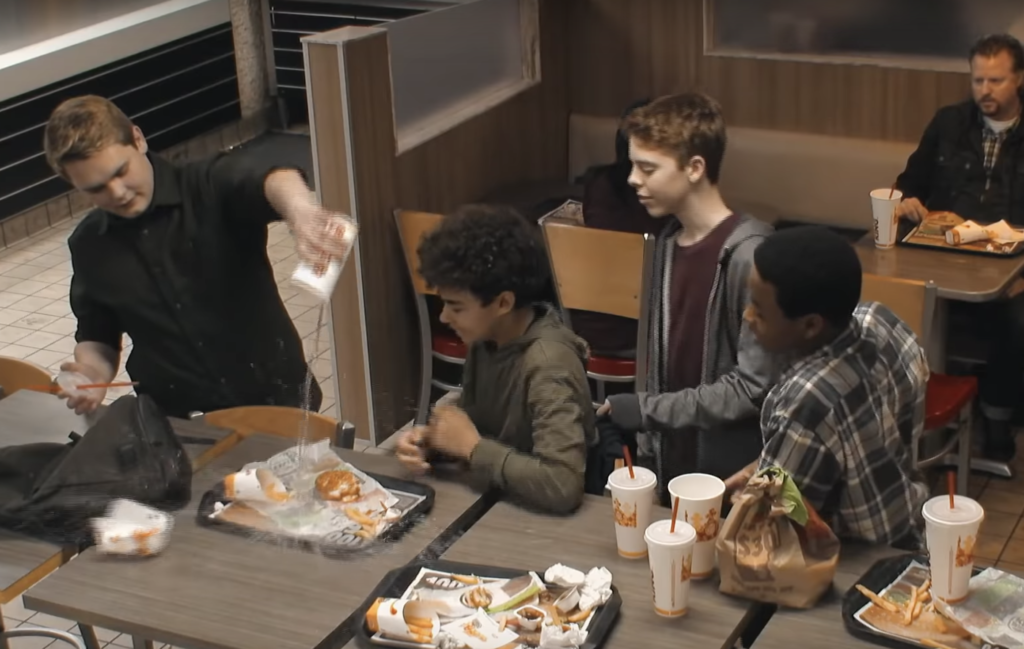 Like many of you I'm sure, I cannot possibly keep up with all that goes on in the world. Sometimes things slip through the proverbial cracks. Such is the case with A Brand, A Burger and Bullying.
Way, way back in 2017 (sarcasm) Burger King released a PSA aimed at shedding light on the unfortunately ever-growing epidemic of bullying. The other day I saw the PSA for the first time and was blown away for several reasons.
The first of which I was bullied; I was on the receiving end of far too many experiences when I was a kid. May be hard to believe for those who only know me as being the 6'3″ 250 pound big oaf that I am today, but I was indeed bullied when I was younger.
So I can relate 1000% to every kid who gets bullied and it breaks my heart every-single-time and my protective nature kicks in and I want to give them all a big hug while telling the bully(s) where to go.
Another reason it resonated with me is the idea and execution behind it. I've been a big fan of BK's Global CMO Fernando Machado for quite some time and yes, for the record I love their new campaign that puts something one would not normally associate with a burger OR any food, front and center: Mold.
As Forbes contributor Avi Dan queried Can Burger King Sell Fast Food With This Baffling, Repulsive Ad? Dan describes it thusly:
The latest stunt from Burger King uses a gross ad to announce that it is removing artificial preservatives, colors and flavors from its Whopper sandwich. In "The Moldy Whopper," as the commercial is called, a perfect burger is shown deteriorating over 34 days without preservatives, as mold takes over the meat patty, and the tagline states "The beauty of no artificial preservatives" to the sound of Aretha Franklin singing "What A Difference A Day Makes."
Take 45 seconds and watch it for yourself…
Still With Me?
I realize some of you may have checked out after watching a perfectly good burger turn green right before your eyes but if you're still with me… here's the PSA from 2017 that moved me and inspired me to write about it today.
The video is both infuriating and endearing. The former because of so many patrons who literally did nothing to help this poor child, while the latter because of those who did (do something).
As far as I'm concerned it is a brand's responsibility to shed light on social issues and causes such as bullying and the bigger the brand, the bigger the responsibility. NOTE: I am not talking about political issues and causes.  I am talking human being issues and causes. I know the lines very often get blurred today but is there any one out there who is in favor of bullying?
One last thing. If you want to do your part to help fight bullying, check out Rainbow Rabbit. Initially created by former Walt Disney animator Arthur Vallee, it is a non-profit Pre-K through Grade 3 Anti-Bullying Educational Program that empowers children, parents and educators to create a positive environment that celebrates unique differences.
---
Below is something I am sharing on behalf my 'brother' Brian DeMarco, one of the most genuine people I have ever met. Those of you old enough may remember Brian from his playing days with Jacksonville Jaguars and Cincinnati Bengals of the NFL.
Brian's son Enzo is in the fight of his life and needs our help and prayers. Please take a minute to click on the Go Fund Me page set up to help Enzo and if you're moved to donate, thank you. If not, that's fine as well. Either way, please send prayers.